Eric and Dana, September 1999
Eric and Dana, February 1998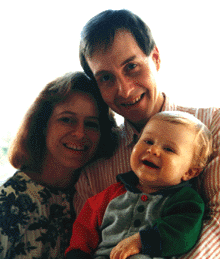 Lisa, Craig and Eric, 1995
I was born on March 15, 1953 in Chicago, Illinois. When I was 3 we moved to San Francisco and then to the nearby town of Hayward, California. I attended Mt. Eden High School in Hayward and then MIT in Cambridge, Massachusetts.
For many years after I left school, almost all I did was hack on computer animation. All my friends said "Craig, get a life!" I thought they said alife and so began to study the field of Artificial Life. Eventually I figured out that what I needed was a Real Life.
While attending SIGGRAPH '89 in Boston I kept running into a red-haired woman from Atlanta named Lisa Berson who, by an amazing coincidence, turned out to be my future wife. She took a big chance and moved to Los Angeles in 1990, with the thought that even if the relationship did not work out, at least she would be in a better job market. We were married in October 1991. Lisa runs her own graphics software consulting business called Reynolds Engineering & Design. We moved to our current home in 1993.
Lisa and I have had the incredible good fortune to have been selected as parents by two wonderful children.
Eric was born on March 5, 1994. He loves music, storybooks, and just about any form of transportation vehicle: trains, planes, cars, buses, and boats dominate his toy collection. In the summer of 1999 Eric suddenly began reading, he picked up Hop On Pop and read almost every word. We make weekly trips to the library to keep up with him. The only problem is that he keeps wanting to act out the title of his first book!
Dana was born on December 14, 1997. She is on a steep language learning curve, so she surprises us every day. She loves songs and gamely tries to sing along, often getting the words right, and occasionally the melody. Dana is also a devoted fan of Blue's Clues.
Of course we think our kids are wonderful, but it is delightful to see the loving way they get along with each other. Each seems to be genuinely fond of the other and they entertain each other so well. What more could we ask?