Steering Behaviors For Autonomous Characters
background and update
by
Craig Reynolds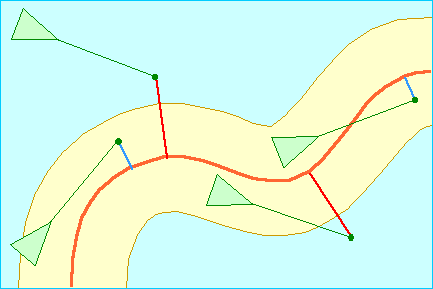 Abstract: This paper presents solutions for one requirement of autonomous characters in animation and games: the ability to navigate around their world in a life-like and improvisational manner. These "steering behaviors" are largely independent of the particulars of the character's means of locomotion. Combinations of steering behaviors can be used to achieve higher level goals (For example: get from here to there while avoiding obstacles, follow this corridor, join that group of characters...) This paper divides motion behavior into three levels. It will focus on the middle level of steering behaviors, briefly describe the lower level of locomotion, and touch lightly on the higher level of goal setting and strategy.
---
| | | | | |
| --- | --- | --- | --- | --- |
| | | | OpenSteer is a open source C++ implementation of these steering behaviors, currently a prototype at version 0.7. It includes an application to demonstrate some of the basic ideas. You can also use it to develop and tune your own steering behaviors. | |
---
Java-based animated diagrams of steering behaviors described in this paper:

Simple behaviors for individuals and pairs:
Combined behaviors and groups:

Note that I cannot distribute the source code for these applets. Source code is available for OpenSteer which is a similar implementation in C++.
---
Related online resources by other authors (sorry, still not particularly well arranged):

General steering behavior and related resources:
Simulating Pedestrians and Traffic:

Steering Autonomous Driving Agents Through Intersections in Virtual Urban Environments [PDF] (2004) , Joseph Kearney James Cremer, and Peter Willemsen (to appear in proceedings of International Conference on Modeling, Simulation and Visualization Methods, Las Vegas, Nevada, June 2004)

[new]

Intuitive Crowd Behaviour in Dense Urban Environments using Local Laws [PDF] (2003) Celine Loscos, David Marchal, Alexandre Meyer

[new]

AI Madness: Using AI to Bring Open-City Racing to Life (2001) by Joe Adzima, describes "urban AI" for pedestrians and vehicles in a virtual cityscape. These techniques were used in the commercial games Midtown Madness 2 and Midnight Club.
Simulating the Collision Avoidance Behavior of Pedestrians (2000) by Franck Feurtey, this Master's thesis describes a spacetime ("(x, y, t) space") approach to 2d unaligned collision avoidance while minimizing detours and speed variation.
Generation of Ambient Traffic for Real-time Driving Simulation (1998) by Esmail Bonakdarian, James Cremer, Joseph Kearney and Pete Willemsen describes "bit players" to provide background traffic for virtual driving simulations.
Discrete Force Model for Pedestrian Motion (including Lane Formation in a Street, Oscillation at a Bottleneck and Interactions at a Crossing), Java applets by Kai Bolay based on the work of Dirk Helbing. See also these related applets simulating: multi-lane traffic and single-lane traffic.
Cellular Automata Simulation of Pedestrians by Victor Blue including Unidirectional and Bi-directional Pedestrian Flows and Cross-directional and 4-directional Pedestrian Flows.

Simulating emergency evacuation of human crowds:
Learning and evolving steering controllers
Steering and path planning for games
Models for the locomotion level of an autonomous vehicle:

Other topics:

Sometimes I hear from people who want to use steering behaviors in their work but never studied the (relatively simple) math and physics concepts on which they are based. As starting points, here are some introductory tutorials that might be useful:
---


Send comments to Craig Reynolds <cwr@red3d.com>
visitors since September 5, 1997
Last update: June 6, 2004